Gravenstein Apple Fair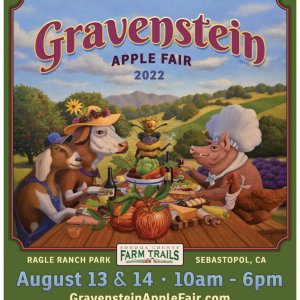 When : 08/13/2022 - 08/14/2022
Where : P.O. Box 452 , Sebastopol, California 95473
Description
The Gravenstein Apple Fair is back!
Join Sonoma County Farm Trails in celebrating the return of "the sweetest fair in Sonoma County" on Saturday & Sunday, August 13 & 14, at Ragle Ranch Regional Park. Enjoy live music, all things Gravenstein, local food, art & crafts, activities for kids, farm demonstrations, craft cider, craft beer, wine, and lots more.
Use coupon code gravenstein5 for $5 off your policy.
(ACT2021)
---
Purchase policy and add this event as an Additional Insured:
Purchase policy